Create Your Personal Online Video Collection
Here's a simple way of watching anything you want anytime and, without those annoying time limits. In other words, how to turn your computer into a digital video recorder.
I have literally hundreds of my favourite BBC programmes on my external hard drive.
So when I'm travelling, I don't have to lump DVDs around, nor pay Hotel Internet charges or any on-demand movies, or get stuck with a News Channel in a Foreign Language!
All you need is some software that can 'grab' the video that comes into your computer via the Internet (known as "streaming" video).
In a nutshell, you've got two ways to record iPlayer or any other similar service: either 'recording' or 'capturing' it.
Recording is better than capturing because the quality is better: it works great with iPlayer but not places like ITV or Channel 4 because the systems block people trying to download their programmes in the 'background' (but don't worry, they won't cut you off from watching the programme in your web browser….).
Take a look at these couple of videos demonstrating how I go about recording (please wait a few seconds…, they are fairly large videos and…for iPad / iPhone users, just tap on the black empty box and the videos should start playing).
Below are two videos: the first one (8 mins) gives you a quick demo of "recording" a TV or radio programme from iPlayer. And the second video shows you the "capturing" method (4 mins) from 'Hulu' (more or less, the US equivalent of iPlayer). You will need to use the capturing method to record programmes from ITV and Channel 4:
The software I used in these videos is called Replay Capture Suite which you can get from here: http://applian.com/replay-capture-suite/
The equivalent for Mac users is "Jaksta" (requires Mac OS X 10.5 or later, Intel processor).
Note that in my videos, I'm using the older version 4 of the software but there's a new version 6 released a little while back – either way, both work just fine!
If you're overseas and using a VPN or Proxy server to watch iPlayer, you'll have to install and use the older version 4 (like I showed in my videos) to use this software properly. You can get hold hold of the older version 4 (which personally I prefer – the user interface is simpler) when you purchase a license key for version 5 (if you have any trouble though, raise a support ticket with Applian and they'll look after you).
If you can't get recording to work, you can turn to "Capturing" which has the benefit of working 100% of the time and quality is good too. It works by literally capturing what's on your screen (or just an area of your screen). Once you've captured the programme, it's perfectly acceptable to watch it on your laptop or your TV by connecting your laptop to the TV.
Ok, now onto the question of which software. After years of trying-out various software packages, the best one that I've used is Replay Capture Suite (from Applian Inc). And here are my reasons why:
The package comes with software allowing you to "record" and "capture".
The quality of video and sound when "capturing" is excellent.
When you attempt to "record", this software has proven to be the most reliable. Like I mentioned before, some sites make it difficult to record streaming video. In my experience and testing against other software packages, Applian outperformed every competitor by a big margin. The new version of the recording software now comes with 126 converters so it's a breeze to convert the recorded video into any format of your choice such as for your iPhone, iPad, DVD, etc…In iPlayer, the recorded video is saved in Flash Video Format which is fine for viewing on PC's or Mac's (for Mac's, you'll need an "FLV" player) but absolutely no good for your iPad or iPhone. If you want to watch your saved videos on these gadgets, you'll have to convert the FLV video format to an iPad / iPhone format (for you techies, that means H.264 encoded videos in either MOV or MP4 format).
The bundle comes with other great little programs allowing you to edit and convert your videos into other formats. The Converter software allows more flexibility vs. the built-in converter with the recording software.
Applian has dedicated itself to producing media recording software since 1997. They don't do anything else: they just focus on high quality media software and at very reasonable prices. So this means that Applian are really committed to producing good quality software in just this specific area (and wouldn't still be in business if it was rubbish).
The software works perfectly in any version of Windows. I've tried and tested in XP, Vista and Windows 7 and it works fine.
Really good customer support & quick to respond (I made enquiries on "recording" from iPlayer from outside the UK and had an answer within a few hours)
On the second point on capturing, I was very surprised by the quality of video and sound even when grabbing High Definition videos from iPlayer although I would strongly recommend using the "recording" method for iPlayer HD programmes. If you want to see how to record iPlayer HD programmes (a little trickier than you might expect and not the same technique as I showed in the first video above),  then by all means, you can hold of detailed instructions when you sign-up for my FREE tutorials (box on the right-hand side).
But going back to capturing, other software packages that I have tried had all sorts of problems including 'jerky' video and even de-synchronised video and sound. So when capturing, you are NOT going to get Blu-ray / HD-quality but it's more than good enough to watch on the telly.
And although I'm in the multimedia business, I don't have any special gear in my lounge: my wife would disown me if I did. What I have is a Samsung 60″ HD flat-screen TV. Yes, it's a nice TV and yes, I watch captured programmes on it and it's fairly reasonable (but obviously no-where near as good as true HD).
I do have one gripe with the software which is they don't have the same version for Apple computers and I have no idea why but since I'm not a big Mac user, it doesn't affect me.  To get around this, Applian have teamed up with another software developer and have produced a piece of software called "Jaksta" (requires Mac OS X 10.5 or later, Intel processor).
I haven't tested it myself but there is a demo version so for Mac users, here's the link: http://www.jaksta.com/Products/Mac/Jaksta-Media-Recorder/     (click on the "Download" button on the left hand side).   Test it out with iPlayer and go ahead and purchase if it works out fine.
If Jaksta doesn't work out, there is another way around this: first get hold of a copy of a software package called "Parallels" and then install a copy of Windows. "Parallels" allows you to run your Mac as a PC. After that, install the Replay Capture Suite.  According to Applian, their software works just fine in this environment but then again, it's more money!
So apart from this Mac 'annoyance', the simple fact is that I wanted quality video & sound since it's really annoying to watch anything unless it's half-decent.
Replay Capture Suite offers 6 more pieces of software which are:
Replay Converter: allows you to convert video and sound into any number of different formats. When recording video, it typically saves the resultant file in Flash Video format. But with this application you can convert it so you can watch it, for example, on your iPod. Another bonus here is that you can actually rip (or 'read from') and burn DVDs. Whilst there is a built-in converter within Replay Media Catcher 4 and 5, the Replay Converter software offers more flexibility (for example, you can configure how video is encoded when converting from one format to another).
Replay Media Splitter: this is a simple yet effective video and audio editor. So if you wanted to cut out ads from your recorded program, this software will allow you to do this.
Replay Music: this is a very reliable program allowing you to record or download high-quality music directly from your computer or, from online radio stations or subscription-based music sites like Spotify.
Skype Telecorder: records your Skype video or voice calls. This is really useful if you want to record teleconferences or even private chats.
Video Padlock: I really love this simple application. It allows you to 'lock' your videos with a password (128-bit encryption). Very useful if you're worried about allowing the kids viewing unsuitable material or simply maintaining your own privacy at home.
Replay Director: this is like a central 'control panel' which allows you to easily navigate to any of the seven applications in the Replay Media Suite with ease.
Replay Capture Suite
is priced at £49 (69€) which I think is pretty good value for money. If you think about it, that's around 60% less than a modern DVD / hard-drive recorder or a 'media centre' than you buy in the stores these days.
And although I have a DVD hard-drive recorder, I hardly use it anymore since I put all my iPlayer and Channel 4 programmes on my laptop (I even get requests from my wife!). So your computer becomes the place for documents, photos, music, DVD player and now your own personal video collection too although, rest-assured, I don't drag the laptop to the TV everyday!
It's just really satisfying to watch something you really fancy whenever you want and not be at the mercy of your Internet connection either (especially when there's high demand) or those really irritating time-limits.
And at least you don't have to mess around for more than a minute or so plugging-in your laptop to the TV. But if £49 is a stretch too far, then you could just settle for Replay Media Catcher version 5 which is priced at £24.95 last time I checked.
Again, it's a question of your needs and value for money. Remember, if you want to record literally anything (including from ITV and C4), then you're going to need the capturing software with the only downside that quality won't be the same as with the recording software.
If you need or think you're going to need to record audio and take advantage of the expanded capabilities such as basic editing & video 'padlocking' (as well the capturing software) then you're going to save a bunch of money by simply purchasing the whole  Replay Capture Suite. The last time I checked, if you purchased all the software that Applian have to offer, it would come to a whopping £182.60 so by simply purchasing the whole suite, you get to save £133.60.
I get quite a bit of email just on this software alone and from folks all over the world so if you're interested, I put a mini-video course together which will answer most, if not all, of your questions.
Just pop in your email address in the box at the top right-hand side and don't worry, I'm not going to spam the living daylights out of you!  There's over 2 hours of FREE video-tutorials and step-by-step written instructions for you when you sign-up.
For more information from Applian, just click on the image below: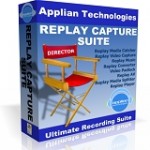 Enjoy! Andy
p.s. I almost forgot but one last reassuring factor is that Applian offer a 30-day money-back guarantee so if it's not for you, just ask for your money back.